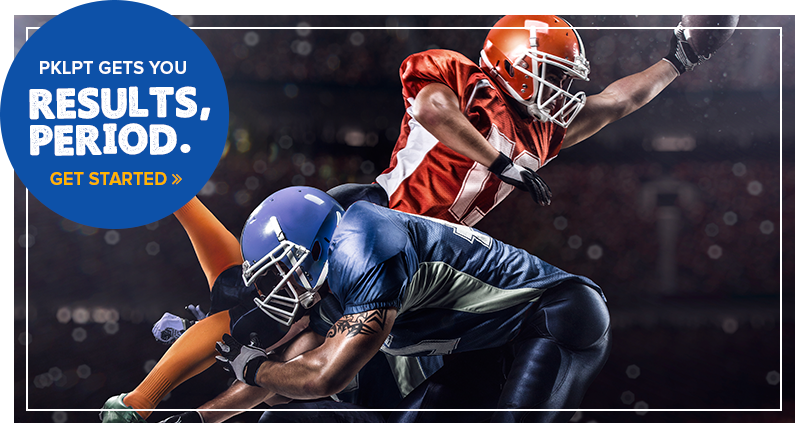 When an injury sidelines you and has you doubting your sports performance, you need PKL's Advanced Sports Medicine treatment! You need the best to you get back to your sport faster and stronger than before and you've already found the best at PKL.
Is the PT facility that your high school, college or athletic team affiliated with the right fit for you? Are you forced to go there because they have a "contract" with your team? Are you getting the best care possible? You have a choice! Don't waste time that you'll never get back!
Some imitation facilities offer sports rehabilitation with little to no exercise equipment. There is no way that an athlete can gain the strength needed to perform with limited exercise equipment. Our 3000 sq foot facility offers squat racks with weights up to 1000lbs, dumbbells up to 100lbs, 10 pin loaded exercise machines, cable pulleys and much much more. As former athletes, our therapists understand the deep desire to compete and perform at 100% intensity on the field, court or ice. We know the frustration of standing on the sidelines with an injury, just dying to get back out there to play the sport you love.
At PKL, we have what it takes and have treated thousands of high school, collegiate and even professional athletes. Athletes who were cut from major NFL teams due to injury were able to once again perform on the field without pain, without fear and with full confidence.
Our evaluative techniques are unmatched and we diagnose and attack the problem head on to get you back playing again. Our hands on treatments such as deep tissue massage, flexibility program and aggressive strengthening is what you need to combat an injury. If you're aiming to get that scholarship but worried about your injury then PKL is your answer. If you're worried about making the roster but worried that you'll never get a shot because of a nagging injury then PKL is your answer.
Come where the all-county, all-state, and professionals go to get an edge on their competition!